added
Release Notes: August 1, 2022
over 1 year ago by Sarah Wheeler
A faster way to create ads
Let's just say uploading ads one by one via UI has been...tedious.
We thought we'd fix that. Now, you can upload ads via CSV file in seconds. Simply fill out one of our templates, head to flights, and upload your CSV.
Check out the below video to learn how, or read our dev docs.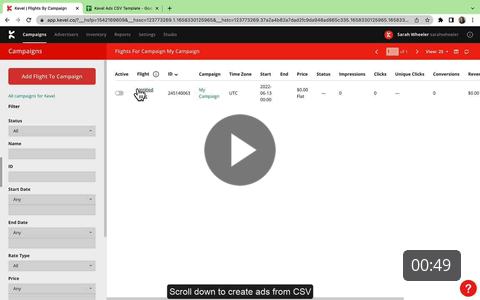 Beta Updates
Forecasting Beta is underway, with results headed to participants this week. Feeling left out? There's still time to join– fill out this survey to get connected.
Interested in self-serve with Kevel? As we develop this new offering, we want to hear from folks who might be interested. If you're interested in Kevel self-serve, please fill out this survey.
Smarter Pacing
Previously, paced ads may have reached their daily goal within the first few hours of the day, resulting in erratic intraday spikes followed by periods of zero impression delivery. Our new smart pacing smooths traffic and consistently serves ads.
To turn on this feature, or to participate in a private smart pacing beta that includes traffic patterns, contact your CSM.
In case you missed it...
Device-type breakout reporting 📱- Reporting breakouts by device will soon be available to UI users, using data from July 20th on. To get ahead of the release, contact your CSM or support.
Bug fix 🐞- We fixed a UI bug causing pagination for large numbers of entities to behave inconsistently. You may have struggled to scroll through tables, finding paging beyond the 1000th item impossible at times. This issue has been resolved.
Timezone scheduled reports ⏰- Users can now select timezones when scheduling reports.
Kevel/Velocidi interview 🎥- Check it out!
To get started with any new features, contact us at [email protected]. Until next month!